This suite of qualifications cover Entry Level 1 all the way to Level 3 in award, certificate, diploma and extended diploma. TLM IT User Skills, is very popular with schools, adult learning centres and colleges because of it's versatility.
You can make the qualification bespoke for your learners by using our vast bank of units. You will also have access to an extensive catalogue of example work to review and build your own resource of teaching materials.
Learners create their portfolio of work digitally which makes it very easy to share completed work with our support team for swift feedback/approval.
The Level 2 IT User Skills has an award, certificate, extended certificate and diploma qualifications. There is also an examination option for the certificate which is predominantly used within schools. Level 2 boasts the largest unit bank of all the levels available in IT User Skills, learners have 42 units to choose from.
Level 3 has an award, certificate and diploma qualifications. Due to the complicity of Level 3 qualifications, this is a focused approach compared to the freedom of units learners could enjoy at the levels below.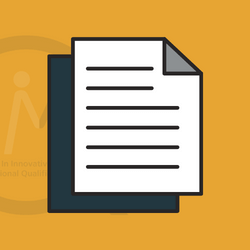 Popular unit combinations
Planning on teaching this qualification?
Let us know and we will guide you through the simple process of becoming a TLM centre.
Our fees are straightforward with no unexpected additional costs.
TLM is an Awarding Organisation regulated by Ofqual specialising in and providing digital qualifications for well over a decade. You can be confident that we are very experienced in helping our centres achieve success for their learners.
Frequently Asked Questions
IT User Skills is a bank of units to help learners develop the use of everyday IT software. Learners complete units at the level they wish to gain a qualification, from Entry Levels to Level 3.
All learners!
These qualifications can be delivered within the school setting as an introduction to using IT and many pieces of software. As well as adult learners within colleges, community learning centres or training companies.
You will need to research if you can receive funding for the qualification you wish to deliver.
Please check -
To browser all the units available, please follow this link
There is an annual centre fee of £650 per academic year, plus any learners you may register (level and qualification dependant). You can find all of our fees published here.
Qualifications you might want to try...