In these uncertain times, we want to reassure you that TLM is here to assist you. We can be contacted via email on helpdesk@tlm.org.uk (we will normally reply the same day) or phone the office on 01827 305940. Your call may be answered by a member of staff working in the office or from home. If your call is not immediately answered we will call you back.
Where TLM is with awarding 2021 process: 
Page last updated 5th July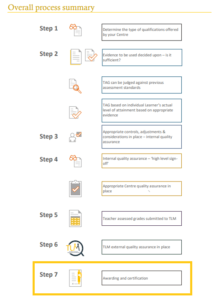 Awards are available to print
Assessment arrangements for 2021
On 6 January 2021, the government confirmed that in summer 2021, students taking GCSE, AS and A levels regulated by Ofqual, should be awarded grades based on an assessment by their teachers.
On Friday 25th February, the government announced the policy and scope of awarding vocational and technical qualifications in 2021. Ofqual also confirmed that it will implement a new principles-based qualifications framework, the Vocational Contingency Regulatory Framework (VCRF).
For in-scope qualifications, the VCRF will permit alternative awarding arrangements that include delaying assessments and adapting assessments, including Teacher Assessed Grades (TAGs).
Teachers will be able to draw on a range of evidence when determining grades. This includes the optional use of questions provided by awarding organisations as well as mock exams, coursework or other work completed as part of a pupil's course (such as essays or in-class tests).
The last date for submitting your 'Head of Centre declaration' document to TLM is 11 June 2021.
The last date for submitting your 'TLM template for submitting TAGs 2021' document containing your TAGs to TLM is 30 June 2021.
Vocational Contingency Regulatory Framework (VCRF)
These requirements are set out in the Vocational and Technical Qualifications Contingency Regulatory Framework (the VCR Conditions). These conditions came into effect at 13:00 on 24 March 2021 for all vocational and technical qualifications which fall within categories A and B as defined in Condition VCR1.8.
This will cover all assessments that have taken place and are due to take place during the 2020-21 academic year (1 Aug 2020 - 31 Aug 2021)
Ofqual has designed the Vocational Contingency Regulatory Framework (VCRF): Conditions and Requirements and Guidance, deliberately to be flexible - allowing each awarding organisation to operate in the best way to deliver grades to its learners for its own qualifications.
What has The Learning Machine done so far?
TLM has published the guidance that sets out our approach and helps you through the grade determination and submission process in 2021. It is set out in 'Steps' that you can easily work through to hopefully, make the awarding process for our qualifications as simple as possible.
TLM Awarding 2021 Overall process summary
Annex 1 - Head of Centre declaration
Annex 2 TLM template for submitting TAGs 2021
TLM has been asked by Ofqual to categorise our qualifications into different groups based on the qualification characteristics.
Download TLM qual list by category 2021
Summer 2021 Qualification Explainer Tool by Ofqual
FAQ